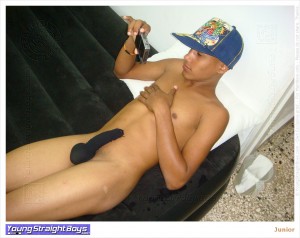 He seems very easy and laughing all the time, but when it comes to "business talks", it's another matter… Very younglooking, but tough. I find this boy very cute, very attractive. He has a rather perfect body, and he is very cool (although quite a bit of a businessman…). The day I went to the beach with the bus (in which I met Juliano, and another boy you'll see later), I spent a lot of time on the beach searching for boys, of course. Although there were thousands of people, and hundreds of boys with the correct age (18-21), I did not find many : only 4 : one who finally was too much serious, one who finally did not interest me (after looking better at his pics), and 2 friends, who looked very pretty and young : Junior (this boy) and his pal, that you will see later. It has been very difficult to have him come to the appartment, because he is living quite far, in a small town or village, and he is very difficult to contact. Added to that, there were many doubts (from me, about his real age, since he did not have his ID card at the beach, and mostly from him : he asked me if there were "pics only", or if there were "other things". I had to say that I was also recording everything in video, whihc did not help, he wanted to know why… He obviously was afraid of anything sexual… but I told him that anyway it was not nude pics, because anyway he would always keep at least one cloth

And, as always, I stuck to my promise… but… you will see !

He actually kept "one cloth", but don't worry, it's very interesting, and it's an example of what I wrote for Damian, where a boy can keep "one cloth" but this can be a very light sheath over penis, with even a hole to allow the cumshots !

Then after more than one month of attempts, and many calls and SMS (with the help of my friend), he finally turned at the flat. He was supposed to come with his pal (which I found rather nice too) but in fact he arrived with another guy, much less pretty, and he tried to have me believe that it was him, that I did not remember well, etc… But I was sure, and fianlly he admitted the truth. I did anyway a small set with the other guy, but it's another story. Finally, the session with Junior went well, he was of course surprised at all the different "steps", but he was not shocked and, as you will see, all this made him laugh, finally. So I wonder about what was seemed so frightening to him at first (maybe that I would ass-fuck him ??…). This is really a pleasant boy, I like his style, his body ; he has an average cock, but one can't have all, isn't it ? I made 3 sets with him (2 solos, and one with his pal, who finally came to my flat another day). What is visible on his forehead are not ugly "spots", but some small scars (of an accident, probably – he does a lot of sport)